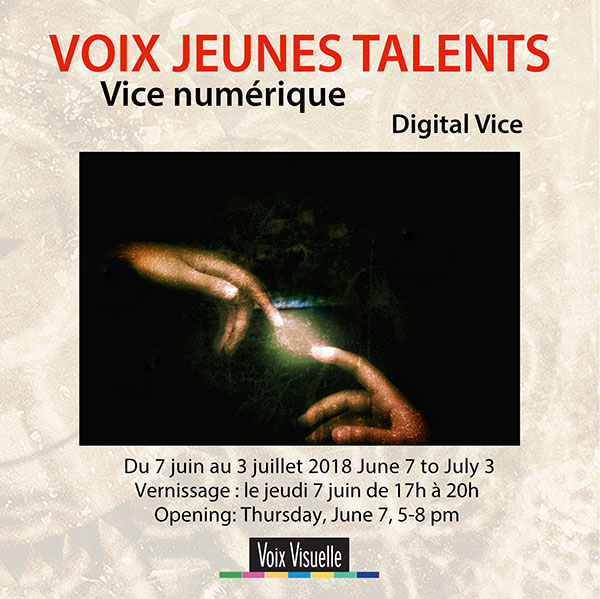 Titre/Thème: Vice numérique (Digital Vice)
From June 7 until July 3, 2018, the exhibition for young artists, Voix Jeunes Talents, is once more taking over the walls of Voix Visuelle, and this, for the fifth consecutive year.
Technological advances progress every day, and so does our perception of these innovations. This vision is the fruit of our own imagination, and it is possible today to express it and share it by using these same technological advances.
The "digitals natives", those who have grown up and learned to live with current technology, have become the everyday operators of these new processes. Nevertheless, one can already witness a certain amount of tension between the mentality of Generation X and that of Generation Y. An inverted trend has been observed, namely that more than 70% of young people transmit their current understanding to their elders when it is a question of the latest technologies, while Generation X learned their skills from their own predecessors. Wouldn't this be a great opportunity to showcase this new mindset that young people acquire with their various knowledge of current technology? Can they redefine the social and physical laws between the real and the virtual?
These new artists, this generation of "digitals natives", can express themselves by various means: digital printmaking, video, virtual reality, or any other media now accessible thanks to today's technology.
This exhibition's theme is Digital Vice. We have invited the participants to express their state of mind in our current society, and their inspiration to discuss what is important to them.
— Xavier Raisenne, curator
Prizes:
Participants: I. Bidal | J. Boivin | S. Boudreau | M.-F. Caron | S. Cazorla-Bak | M. Choquette | C. Cournoyer | E. D'amours | L. Davison | A. Del Ciotto | T. Di Francesco | N. Doré | L. Elbaz | M. Fiett | A. Francet Lemieux | C. Gallant | J. Gibson | D. Gospodinov | M. Green | C. Hoddinott | A. Howard | M. Idris | C. Jutras | M.-P. Lafrenière | F. Larrivée Levesque | J. Makhai | P. Martineau | S. J. Mayer Chartrand | O. Mullington | M. Ossaman | J. Perras | A. Peter | J. Peters | I. Pierre | A. Plater | A.-S. Racine | K. Robinson | A. Sommers | N. Tilus | S. Waite | K. Walker | E. Zarkadas
The opening of the exhibition took place on Thursday, June 7, 2018, at 5 p.m. at the Centre d'artistes Voix Visuelle.
The Centre d'artistes Voix Visuelle would like to thank the Ontario Arts Council, Canadian Heritage and the City of Ottawa for their support.