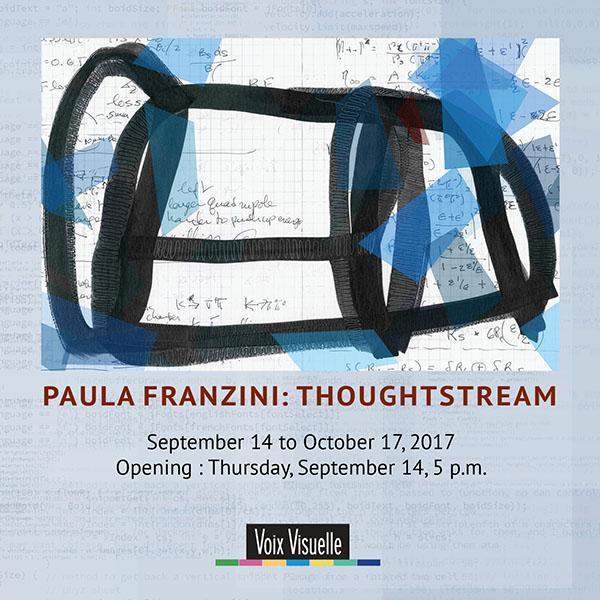 From September 14 until October 17, 2017, Voix Visuelle is presenting Fil de pensée (Thoughtstream), an exhibit by Paula Franzini. In Fil de pensée, Franzini pays tribute to her mother and this woman's musings, which mirror her own.
Combining her fascination for complex chaotic systems (mechanistic assemblies, living organisms) with her mother's personal and professional writings and calligraphy, as well as photos from her mother's life, the artist presents diverse digital prints and videos, where the random and the intentional appear side by side, and where there is a fine line between the thoughts of the mother and the thoughts of the child.
This Saturday, October 14 at 8 p.m., the artist will present one of her videos projected on the gallery window, to be seen from street level. Come experience with us this new interaction with the outside world.
The opening of the exhibition took place on Thursday, September 14, at 5 p.m. at the Centre d'artistes Voix Visuelle. The gallery is located at 67 Beechwood Avenue (2nd floor), in Vanier, and is open from 11 a.m. to 4 p.m., Tuesday to Saturday.
The Centre d'artistes Voix Visuelle would like to thank the Ontario Arts Council, Canadian Heritage and the City of Ottawa for their support.