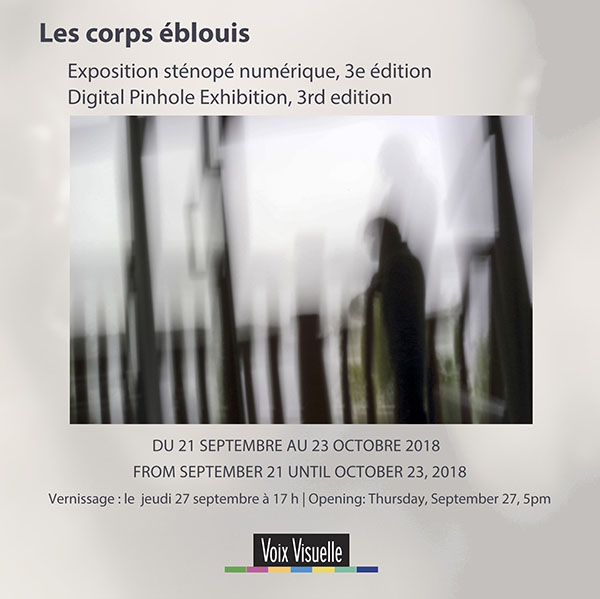 ARTISTS: Roland Willaert | Nicole Blundell | Paula Franzini | Gayle Kells | Sylvie Vailllancourt | Svetlana Swinimer | Frances Caswell-Routhier | Renée Chevalier
Johanne Lafrenière | Elizabeth MacKinnon | Joseph Muscat | Richard Robesco | Patrick Dionne and Miki Gingras | Paul Walty | Gilles Masse | Pal Csaba | Driss Aroussi
From September 21 until October 23, 2018, the Centre d'artistes Voix Visuelle is inviting you to the Digital Pinhole Exhibition, 3rd edition. Curated by André Paquin, the exhibition Les corps éblouis shows the work of various artists who took pictures using an ancient method, the pinhole camera, and by adapting it to the modern technology using an interchangeable lens digital camera. With this method, the research focuses on the idea of afterglow, and the intention is to provoke an accident. The subject is framed blindly, the composition is instinctive and the shutter is released when the artist feels it's time to do so. 
The opening of the exhibition will take place on Thursday, September 27, 2018, at 5 p.m.
The Centre d'artistes Voix Visuelle would like to thank the Ontario Arts Council, 
Canadian Heritage, and the City of Ottawa for their support.