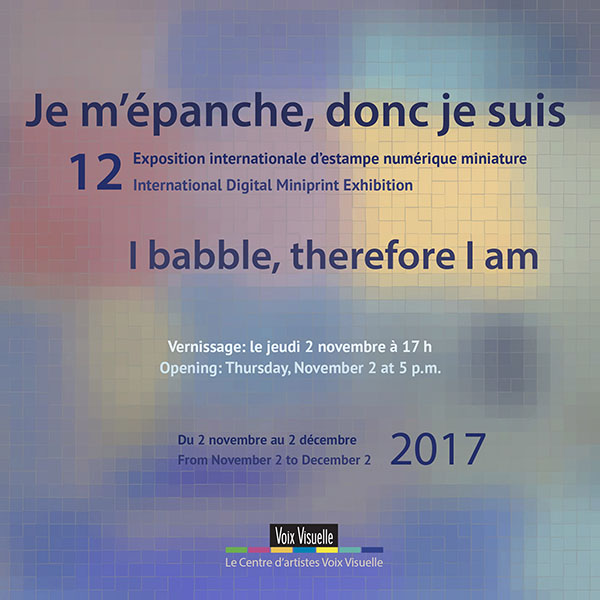 From November 2 to December 2, 2017, the International Digital Miniprint Exhibition, 12th edition, will take place at Centre d'artistes Voix Visuelle. Curated by Raymond Aubin, the exhibition presents the artwork of many artists reflecting on the subject of the staging of oneself, from a Facebook diary perspective.
The exhibition includes selfies, daily life in its utmost banality, the superficiality of personal histories, the sensation of spectacular odysseys, and the kitsch of familiar objects. The key is to push oneself forward and blow one's own horn.
For this exhibition, participating artists are from Belgium, Canada, France, Germany, Greece, Hungary, India, Japan, the Netherlands, Poland, Slovenia and Ukraine.
Three prizes and three mentions were awarded:
1st prize (Voix Visuelle prize) to Laurence Finet, Canada, for Plaisir;
2nd prize (Voix Visuelle prize) to Saeko Hanji, Japan, for Breathing Space #36;
3rd prize (Marcil Lavallée prize) to Mónica Márquez, Canada, for Un bonjour de Moscou;
Honorable mention to Izabella Retkowska, Pologne, for Merry Christmas;
Honorable mention to Noémie Avidar, Canada for petite doro;
Honorable mention to Ralph Nevins, Canada for 17_0012a_08.
Also included in the gallery below are the work of:
Florentia Ikonomidou, Greece, Undelivered
Gail Bourgeois & Pira Pirani, Canada, Morse Code Project (Coding)
Isao Kobayashi, Japan, The place where the memory returns No. 139
The opening of the exhibition took place on Thursday, November 2 at 5 p.m. at Centre d'artistes Voix Visuelle.
The complete list of artists, as well as the curator's text and the catalog
The Centre d'artistes Voix Visuelle would like to thank the Ontario Arts Council, Canadian Heritage, the City of Ottawa and Marcil Lavallée for their support.